We are excited to announce we have commissioned Dr Richard Cooper to complete a series of projects at NWS.
Restoration of Te Hono Tangata (Te Whanau Puawaitanga's carving)
A waharoa (entranceway) for our front gates.
Here are some representations of what the pieces will look like.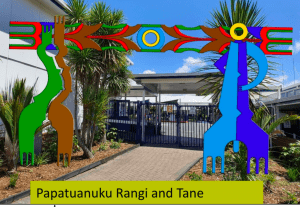 A little background on Richard – he was a graduate of the Elam School of Fine Arts being one of only 5 people in the world to graduate with a Doctor of Fine Arts. He was the Head of Department for the renowned Buck Nin School of Fine Arts, Te Wananga O Aotearoa for 5 years.
Cooper exhibits around the world; he has also been commissioned to create several high profile Art works and sculptures around New Zealand on an epic scale. One of the works that he is most famous for is the iconic Manukau Millennial Sculpture which stands 11 metres tall, weighing a mammoth 71.3 tonnes. He received the National Creative place award for the artwork, which stands adjacent to one of New Zealand's busiest intersections receiving more than 46,000 views per day.
His career spans across the globe having exhibited and worked in sculpture symposiums in France, New Caledonia, Cook Islands, Japan, Hawaii, Australia and the USA.
A skilled project manager, Dr Cooper is an expert in logistics and is experienced in all aspects of design, manufacture and installation of large scale art works in high human traffic areas.
His public projects have received high levels of exposure; Cooper has extensive experience in Public Relations, Marketing and Promotions. Making several Television appearances, with extensive press coverage and publications. "A vital part of the unveiling process is providing great PR for the Client, especially where significant public investment is involved. Maximising the investment for the client is paramount for us" He said.
Some of his latest commissions have been Manurewa Intermediate School Marae, Gateway and Fale. The new milk factory named Yashili at Pokeno, and the Vodafone Event Centre new Vector Wero White-water Park where he with Ted Ngataki local Kaumatua (Tribal Elder) and their Whanau (family) carved and painted 110 poles.
We are looking forward to working with Richard and seeing some beautiful pieces created for our school community.